Home

Partager une page
Partager une page
Veuillez renseigner le formulaire ci-dessous afin de faire parvenir un e-mail à votre ami(e) :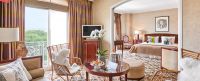 Suite Deluxe
The Deluxe Seaview Suites, in a 60m² setting, offer a breathtaking panorama of the bay of Juan les Pins.
The suites of the Juana Hotel all have a nice living-room separate from the bedroom and are the introduction to a luxurious stay in the heart of the Riviera.
The bathrooms are fitted with two washbasins, one shower and a separate whirlpool bath.
Since Spring 2018, we launched our new suite, the Artist Suite as a tribute to Picasso. More information HERE. Available on request.