Home

Beauty, Beach & Water Ski

Water Ski
Water Ski
In 1932, Leo Roman and Emil Petersen ( associated with Major Howard ) contribute to the development of the water-ski by creating the first Water-Ski Club and making incredible demonstrations in the Golfe Juan bay. At the beginning, they used very heavy snow skis. It was immediately a success and they did the same in Cannes and Nice. As it was really fashionable, people like Errol Flynn and David Niven, in Monaco, said that they were themselves the inventors of the water-ski…
The Juan-les-Pins Water-Ski Club was sponsored by the American millionaire Frank Jay Gould; Florence, his famous wife, was the Water-Ski Club President. The first fabric which realize water-skis was called 'Toche & Lahupe ', and was situated between Juan-les-Pins and Golfe-Juan.
The first worldwide water-ski champion ship happened in 1949 in the Juan-les-Pins bay, in the historic channel of the hotels Provençal and Belles Rives ; the champions were French : Peter Goin, Pierre Jourdan-Gassin, Madeleine Bouteiller.
From 1950 to 1960, all the competitions were dominated by the Water-Ski Club of Juan-les-Pins : Maxime Vazeille, Christian Malinet, Jean Jacques Pottier and Philippe Logut.
All these episodes explained why Juan-les-Pins is internationally known as the birthplace of the water-skiing.

Download the water game rates HERE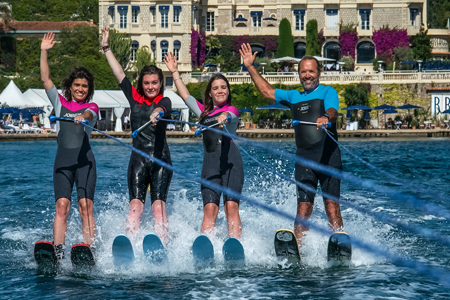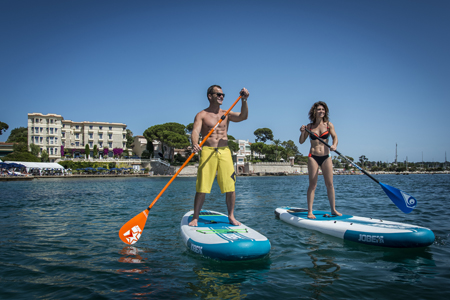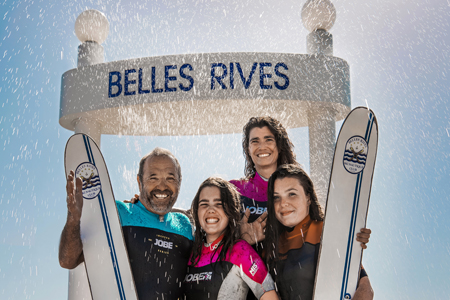 La passion d'un homme qui n'a qu'un seul horizon, la Mer.
"I spent all day on the beach staring seaward filled with admiration for this extraordinary spectacle . At 9 years old , the die was cast , I knew that I will water ski instructor ."
C'est là que je suis bien et les clients entretiennent ce même rapport singulier avec cette maison, construisant eux aussi leur propre fiction du bonheur, à travers le prisme de leurs souvenirs de vacances."
Marco Grilli (1952-2019)
Click HERE to see the trubute to Marco
Reservations : +33 4 93 61 02 79 / +33 6 07 72 78 64 - plage@bellesrives.com
The Belkes Rives Beach and the Water Ski Club are open daily from April to October.
For your own safety, our beach is secured from 10:00am to 07:00pm.